SEED 2021 focused on advances in science, technology, applications, and related investments in the field of synthetic biology.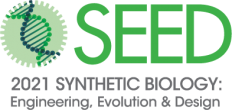 The conference looks at every step — from the synbio bench to society, including ethics, regulations, commercialization, education, and the science itself.
Session 1: Translating Synthetic Biology into the Clinic

Session 2: Synthetic Biology Approaches in Pandemic Response

Session 3: Synthetic Biology for Safety, Security, and Defense

Session 4: Synthetic Biology for Agriculture, Food and Personal Care

Session 5: Computation, Artificial Intelligence, and Machine Learning for Biological Design

Session 6: Cell-free Synthetic Biology

Session 7: Emerging Technologies

Session 8: Emerging Applications
Panel 1: Bringing Synthetic Biology Products to Patients

Panel 2: Safety and Biosecurity

Panel 3: Scale up and Commercialization

Panel 4: Funder's Panel

Panel 5: Future and Opportunities in Synthetic Biology
I'm looking forward to seeing how the next generation of synthetic biology approaches can lead to the development of new therapies to treat a wide range of unmet medical needs for patients.