SEED is the leading technical event for synthetic biology — covering the field from its foundations to its commercial applications. Gain insight into next-generation development strategies from leaders in research and industry. This year, SEED will highlight advances and state-of-the-art technologies in synthetic biology.
IMPORTANT DEADLINES
Abstract submission deadline: March 1
Early bird deadline: April 2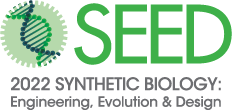 The best synthetic biology meeting I have ever attended. This series of SEED conferences has shaped my career since I started my academic position in 2012. The best conference with the best community and best attendees.
Top Reasons to Showcase Your Work
With primarily single-track sessions, your message will reach a broad audience of attendees.
Unique opportunity for early career researchers to present before established leaders in the field.
Multidisciplinary audience will provide cross-disciplinary feedback for your work.
Provide input to shape the future of synthetic biology and related fields while contributing to advancements.
Meet colleagues and future collaborators.
Top Reasons to Attend
The scope of synthetic biology applications covered by the conference attracts a broad audience — making it unique in the space.
Explore how synbio is being repurposed to respond to emerging societal and global problems.
Learn about the diversity of synthetic biology applications across segments.
Interact with researchers on the cutting edge of synbio and establish new collaborations.
Gain an understanding of the interface between technology advances and practical applications.
Interact with the field's leaders, as well as funding agencies
Potential to recruit of new employees or post-doctoral researchers.
Enjoy targeted networking opportunities, in addition to traditional social events.
Did you

know?

Sponsorship allows you to demonstrate your impact to this high-level audience and the larger synthetic biology community. As a sponsor or exhibitor, you will share your technical expertise and educate attendees on how your products and services can help overcome challenges in this field, in addition to showing your commitment toward supporting a conference that will benefit advances in research.
Applications Open for Langer Prize
The Langer Prize for Innovation and Entrepreneurial Excellence awards unrestricted grants of up to $100,000 to assist researchers — particularly those working in chemical and biological engineering— in pursuing high risk entrepreneurial ideas that may lead to game-changing technical and commercial innovations. Apply by February 15!