SEED is the leading technical event for synthetic biology — covering the field from its foundations to its commercial applications. Gain insight into next-generation development strategies from leaders in research and industry.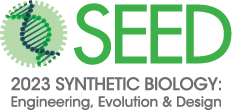 SEED is the preeminent meeting in Synthetic Biology. We have an amazing lineup of speakers advancing both the fundamentals of synbio and its many applications. Can't wait to host everyone in LA!
Funding and Grant Opportunities May Be available
Thanks to the AIChE® Foundation, we have a limited number of stipends to offer discounted conference registrations and up to $500 in travel support for members of underrepresented minority groups.
Sponsored registration for SEED 2023 might also be available to U.S.-based students, post-docs, and early-career professionals from underrepresented groups.
I am super excited for SEED 2023 as it is bringing together a spectacular cast of speakers spanning emerging domains across biomedical research.
Top Reasons to Showcase Your Work
With primarily single-track sessions, your message will reach a broad audience of attendees.
Unique opportunity for early career researchers to present before established leaders in the field.
Multidisciplinary audience will provide cross-disciplinary feedback for your work.
Provide input to shape the future of synthetic biology and related fields while contributing to advancements.
Meet colleagues and future collaborators.
Session Topics
Synthetic Neurobiology

Synthetic Cells and Cell Free Systems

Biomolecules: Computation, Design & Evolution

Multicellular and Organ-Scale Engineering

Biological Information Storage and Computing

Engineered Biomedicines

Next-Gen Gene Circuit Regulation

Synthetic Biology for Climate and Environment Sustainability

Microbiome Engineering for Health, Food, and the Environment

The Future of Food and Natural Medicines

Big-data and Synthetic Biology

Engineered Living Materials
SEED is a great opportunity for people who are just getting into the synthetic biology field to not only learn fundamentals but also get exposed to the various applications of synthetic biology in addressing global challenges.
Top Reasons to Attend
The scope of synthetic biology applications covered by the conference attracts a broad audience — making it unique in the space.
Explore how synbio is being repurposed to respond to emerging societal and global problems.
Learn about the diversity of synthetic biology applications across segments.
Interact with researchers on the cutting edge of synbio and establish new collaborations.
Gain an understanding of the interface between technology advances and practical applications.
Interact with the field's leaders, as well as funding agencies.
Potential to recruit of new employees or post-doctoral researchers.
Enjoy targeted networking opportunities, in addition to traditional social events.
Who Should Attend
Researchers from industry, government, and academia – from senior undergraduate to faculty-level
R&D leaders
Program managers and industry executives
Associated professionals in the fields of in bioengineering, biotechnology and bioprocessing
Industry decision makers/tech scouts looking to speed up research and foster new applications
Did you

know?

Sponsorship allows you to demonstrate your impact to this high-level audience and the larger synthetic biology community. As a sponsor or exhibitor, you will share your technical expertise and educate attendees on how your products and services can help overcome challenges in this field, in addition to showing your commitment toward supporting a conference that will benefit advances in research.